The former Defense Minister and four time chief minister of Goa, Manohar Parrikar took his last breath on Sunday at the age of 63. The BJP leader and a RSS stalwart was suffering from pancreatic cancer and was admitted to hospital after his health has deteriorated a couple of days ago. Parrikar also visited a hospital in the US for treatment but returned to India and was admitted in AIIMS, Delhi. He served as the CM of Goa from 2000 to 2005 and from 2012 to 2014. Parrikar also served as the defence minister in BJP-led NDA government from 2014 to 2017.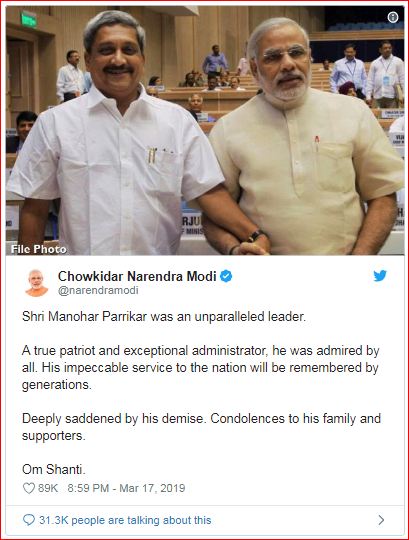 Politicians from across country pay rich tribute to the former defense Minister. Manohar Parrikar's funeral to begin at 4 pm at Miramar. PM Modi, Amit Shah and Rajnath Singh to attend the funeral. Parrikar's mortal remains will be kept at Bharatiya Janata Party (BJP) head office in the state capital Panjim till 10:30 am. From there, his body will be taken to Kala Academy in Panjim for the public to give their final respects.
CMO Goa posted the programme plan of Manohar Parrikar's final journey on Twitter.
The Centre has announced national mourning on March 18 in view of Manohar Parrikar's death and said a state funeral will be accorded to the Goa chief minister.
From Amitabh Bacchan to Akshaya Kumar, many celebrities have showed grief and respect on twitter as Manohar Parrikar passed away.