As per the study that measured the presence of fine particulate matter known as PM2.5, New Delhi has been ranked the most polluted capital in the world. Seven of the top 10 most polluted cities in the world are in India, according to a new study showing South Asia's battle with deteriorating air quality and the economic toll it's expected to take worldwide.
Gurugram, located southwest of India's capital New Delhi, led all cities in pollution levels in 2018, even as its score improved from the previous year, according to data released by IQAir AirVisual and Greenpeace.
The six other Indian cities in the top 10 list are – Ghaziabad, Faridabad, Bhiwadi, Noida, Patna and Lucknow. In the list, two cities are of Pakistan – Lahore and Faisalabad and one is the Chinese city of Hotan. The World Health Organisation (WHO) permits the annual limit for PM 2.5 is 10ug/m3, whereas, according to the National Ambient Air Quality Standards, the annual permissible limit for PM2.5 is 40ug/m3.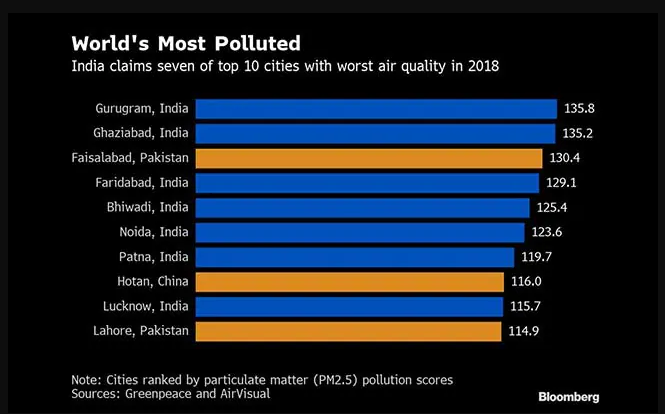 Executive Director of Greenpeace South East Asia, Yeb Sano, said,
"Air pollution steals our livelihoods and our futures, but we can change that. In addition to human lives lost, there's an estimated global cost of 225 billion dollars in lost labour, and trillions in medical costs. this has enormous impacts, on our health and on our wallets. We want this report to make people think about the air we breathe, because when we understand the impacts of air quality on our lives, we will act to protect what's most important."
Air pollution, both outside and inside homes, is a silent and prolific killer responsible for the premature death of seven million people each year, including 600,000 children, according to a UN expert on environment and human rights.
Air pollution due to crop residue burning in northern India causes an estimated economic loss of $30 billion annually, and is a leading risk factor of acute respiratory infections, especially among children, according to a study unveiled Monday.India, the world's fastest-growing major economy, makes up 22 of the top 30 most polluted cities, with five in China, two in Pakistan and one in Bangladesh.
Pujarini Sen, Greenpeace India said,
"IQAir AirVisual 2018 World Air Quality Report is a reminder to us indicating that our efforts and actions to reduce the invisible killer, i.e., air pollution are not enough, and we need to do much more than already planned and done. If we want India to breathe clean air, it's high time that our plans such as NCAP, GRAP, CAP etc. becomes much more stringent, aggressive, legally binding and most of all implementable at ground rather than being just used a political statement without much happening at ground."