*Moon-lander "Vikram'" separated from Chandrayaan 2 orbiter: ISRO
*All systems of Chandrayaan 2 orbiter and lander are healthy: ISRO
*Vikram will head to South Pole of the Moon
*Scheduled to land on the Moon on September 7.
New Delhi: "Vikram", Chandrayan-2's Moon-lander, is now ready to head to the South Pole of the Earth's satellite on September 7.
On Monday, the advanced Moon lander "Vikram" successfully separated from Chandrayaan 2 orbiter, the Indian Space Research Organization (ISRO) tweeted.
"The health of the orbiter and lander is being monitored from the Mission Operations Complex… All the systems of Chandrayaan 2 orbiter and lander are healthy," ISRO said.
#ISRO
Vikram Lander Successfully separates from #Chandrayaan2 Orbiter today (September 02, 2019) at 1315 hrs IST.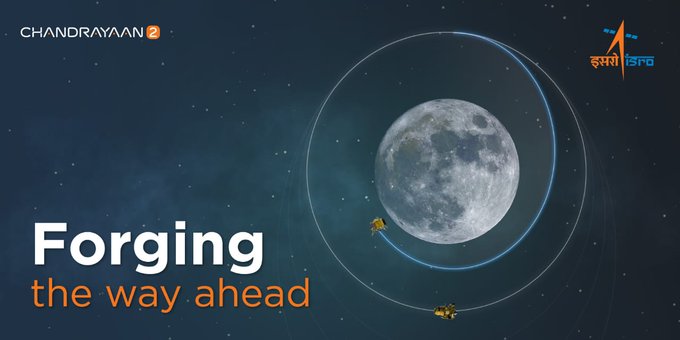 Vikram will slowly head to an area on the Moon which is little explored until now. Most lunar landings have so far taken place in the northern hemisphere or in the equatorial region of the Moon. Vikram is scheduled to touchdown on the lunar surface on September 7.
After touchdown, the rover, "Pragyan", will roll down from the Vikram spacecraft to conduct research on lunar soil.
Chandrayaan 2 was successfully manoeuvred into lunar orbit on August 20, after nearly 30 days of space travel. It was one of the toughest operations in India's ambitious mission.